Any business model requires a very well-defined target audience in order to succeed. A Buyer Persona is a fictional representation of your ideal customer, helping you understand the key features that identify your potential customers. Having an accurate representation of what type of consumer will be more likely to purchase your products or services is essential in any successful marketing strategy.
However, most often than not these definitions of the ideal customer are based on pure intuition or, at best, on expensive surveys and market research that almost becomes obsolete by the time the new product or service hits the market.

Xeerpa Buyer Persona Generator, setting a new standard
WHAT'S NEW?
Xeerpa's Buyer Persona Generator changes that. Based on AI and Big Data analysis, it allows you to analyse your current customers and define the most precise Buyer Persona, based on facts. No more costly surveys to panels that quickly become obsolete, with Xeerpa you can actually analyse current profiling data in real time and generate an up-to-date Persona within seconds. Not only that, but you have the flexibility of creating as many as you need, anytime, and with advanced filtering options. The possibilities are endless.
The Buyer Persona analysis generated by Xeerpa takes into consideration much more information than just some questions in a survey. Xeerpa's Profiling capabilities analyse your current customers and fans, bringing in over 400+ attributes of First-Party data to the analysis. Our AI models identify the key features, affinities, lifestyle, locations, comments and even Personality traits that your customers share and make them unique, providing an extensive analysis of how your ideal customers really are, based on data.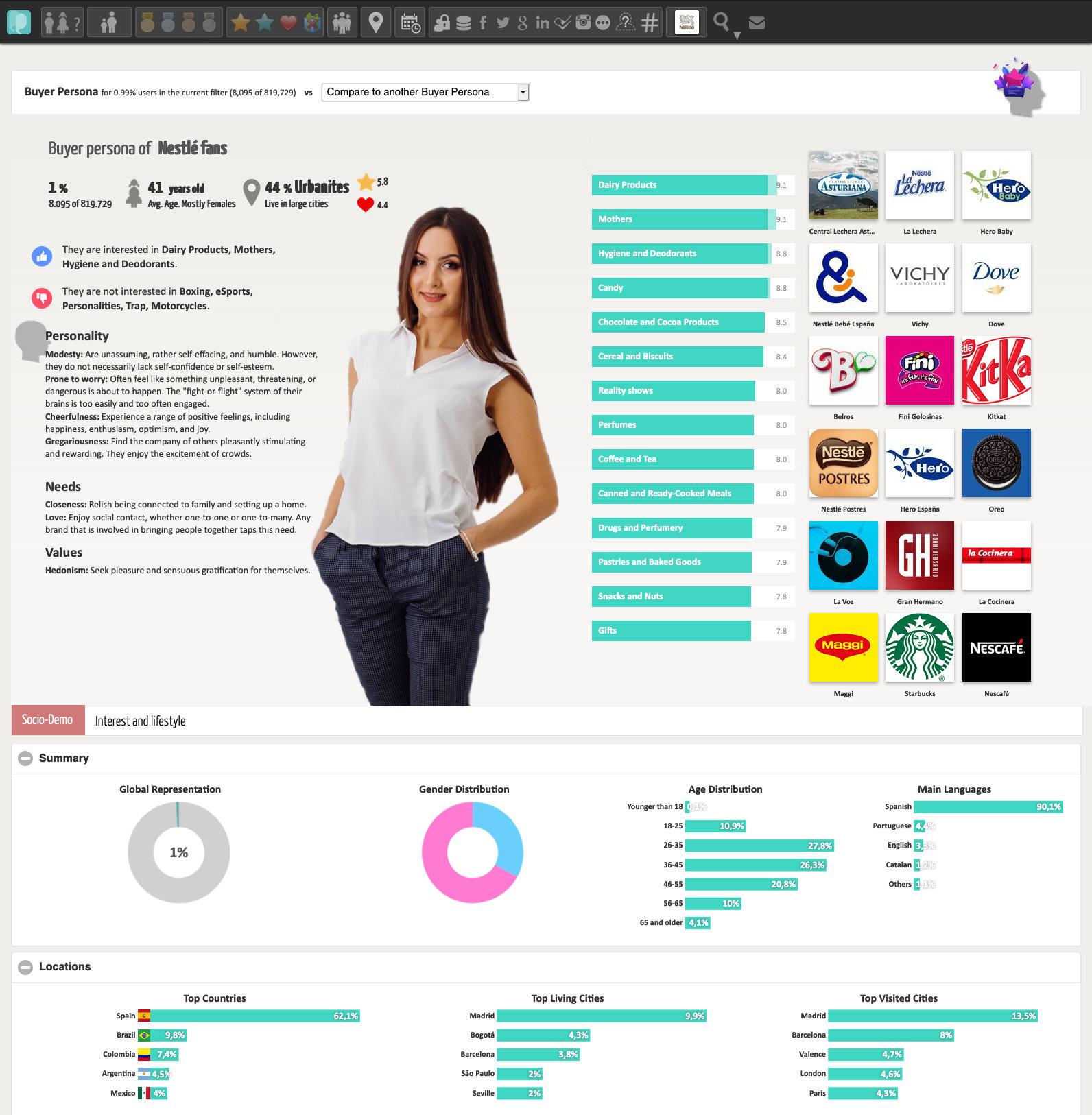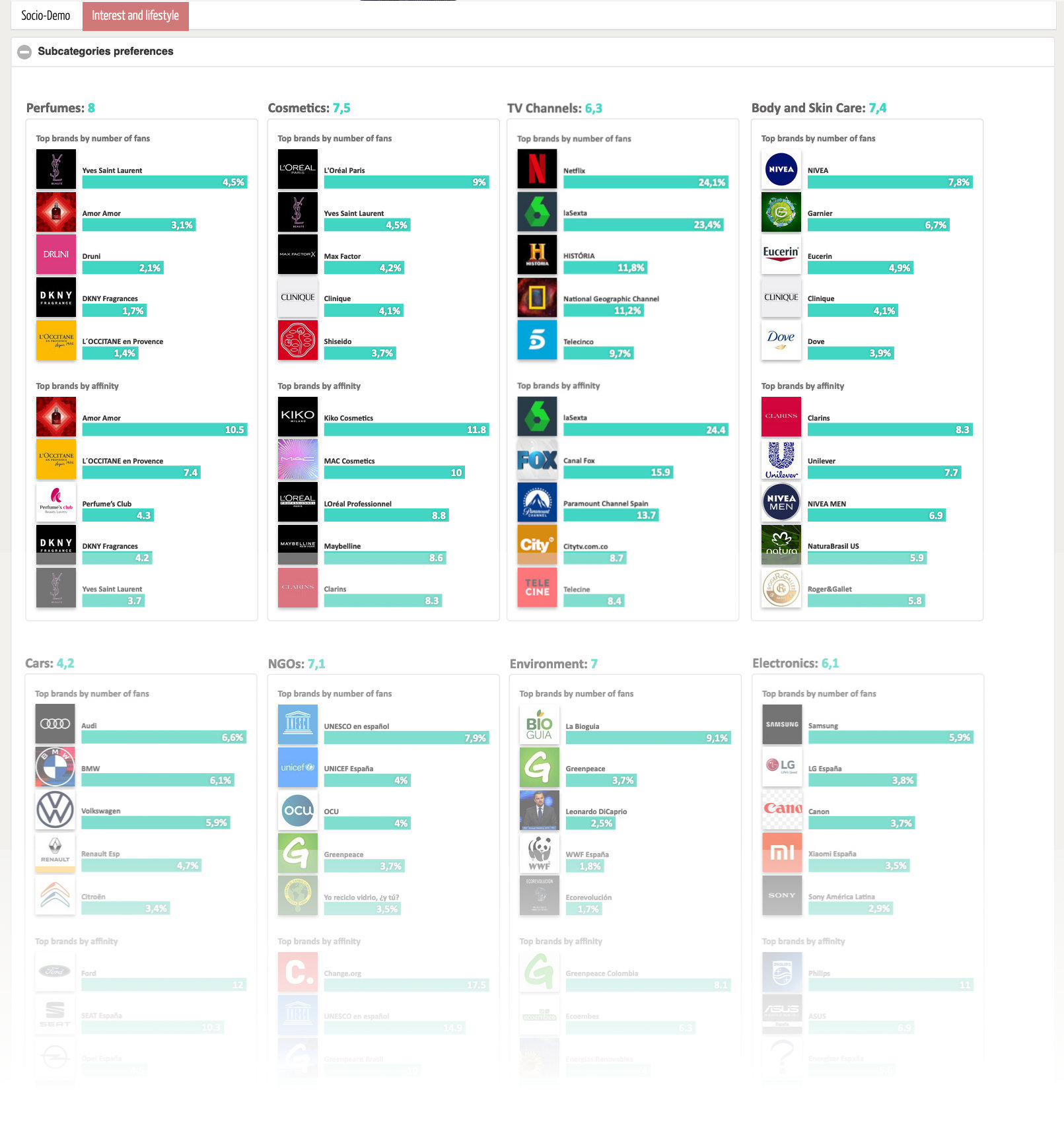 Demo data
HOW DOES IT WORK?
Generating a Buyer Persona profile analysis is super easy from the Xeerpa Dashboards. Simply select your audience in the filter bar, for instance we can select the fans of one of your brands or a potential competitor, or partner. Xeerpa Dashboards' filtering options also allow you to select an audience based on their Interests in any of the 300+ built-in categories, Lifestyle or Affinities, Personality Traits like Adventurous, Creative, Impulsive, Intellectual, Emotional…, consumers commenting on specific topics or using specific Hashtags or Keywords, Micro-Influencers and Brand Ambassadors, and of course, by Location, Gender or Age.

Then just click on Current filter to generate a Buyer Persona based on the current selection, or simply select a previously created Persona for further analysis.

Xeerpa's AI will analyse the users that match the criteria, identifying those key features that make them unique and presenting a Buyer Persona analysis like the one shown above.
Xeerpa Dashboards also lets you compare the analysis with another Buyer Persona previously created, so you can see them both side by side and identify the key differences and similarities. For instance, you could compare the Buyer Persona of two of your brands, or your brand versus a competitor or partner, or perhaps two different groups of consumers.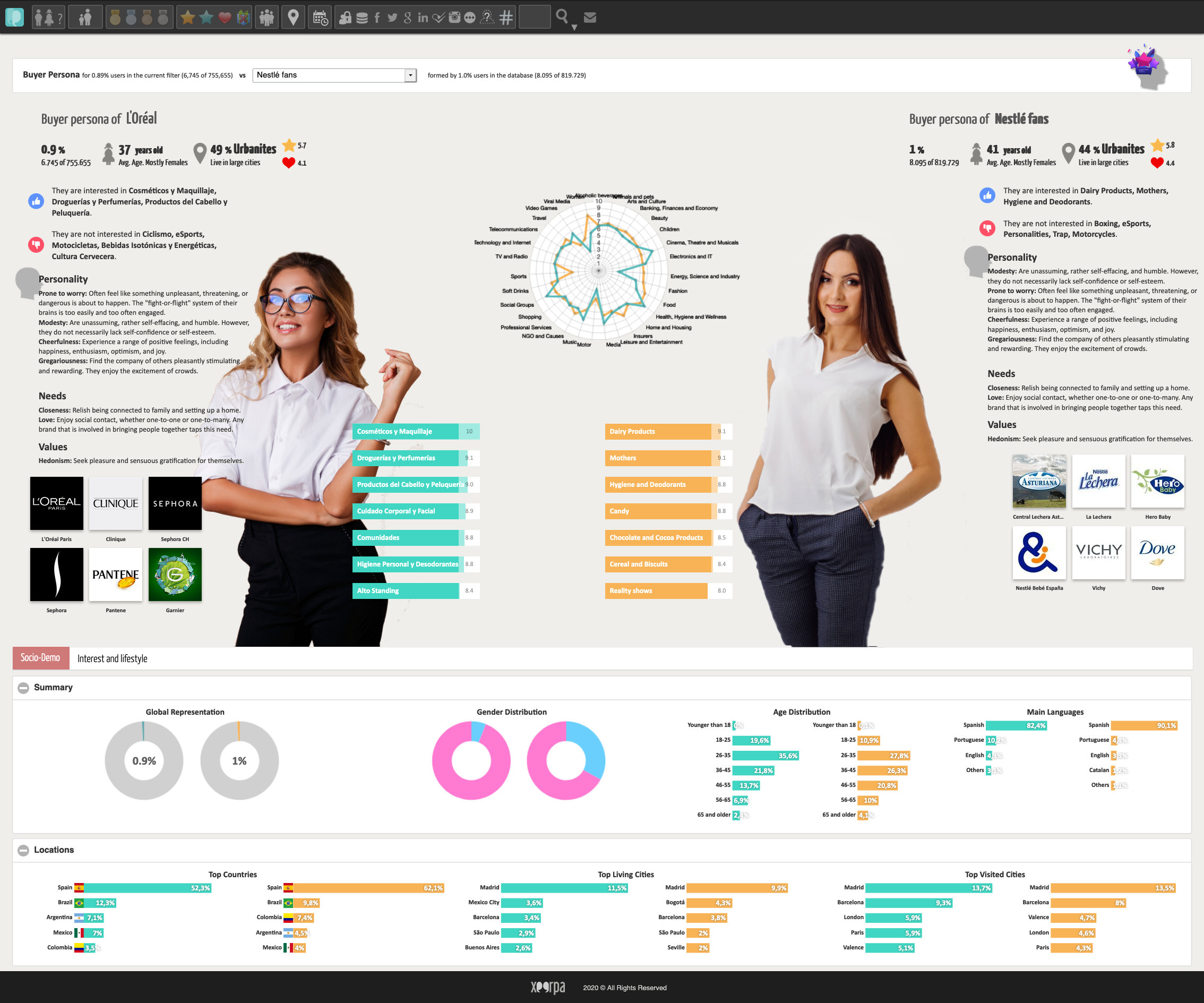 WHAT ARE THE ADVANTAGES?
Defining your Buyer Persona with Xeerpa brings in many important advantages:
Base your decisions on information and insights, not on intuition.
A precise Buyer Persona is key in any Data-Driven, Customer-Centric strategy. Know your customers like never before, with +400 attributes per consumer, and take Customer Profiling to the next level with Xeerpa, the most advanced user profile based on data.
Trust your own First-Party data.
Xeerpa helps you complement your CRM/CDP/DataLake so you can make informed decisions based on your own information.
Improve your ROI by targeting the right audience.
Understand the preferences of your customers and focus your strategy on what they value the most.
Find new customers.
Only when you identify the characteristics of your target audience you can effectively search for look-alikes.
Because segmentation is not enough.
Segmentation lets you differentiate between various groups of consumers, but their Buyer Persona lets you identify their key common features, values and motivations.
Keep your Buyer Personas updated.
People change, and so do your customers. No need for a new round of surveys; Update your Persona at a click of a button.
SEE IT IN ACTION
Don't take our word for it, request a demo and see it in action. Learn how quickly and easily you can generate your own Buyer Persona analysis for your brand and even for fans of a competitor, partner or retailer.