Companies throw everything they've got at World Cup Marketing: this year the audiences are estimated at 3 billion people. The 2014 World Cup was the most tweeted about event in Twitter history. It is the time to move their brands and interact with customers through social media.
Brands from across the spectrum have produced ads for the 2018 Cup: from Lidl to Visa to LG to Astro. Many lean on influencers from every walk of life, footballers or not. Everyone and every brand is connected to the World Cup. Adidas' clip has more famous faces than seconds of running time, flitting from Messi to Beckham to a whole other category of famous in the likes of Pharrell. Obviously, no expense was spared when leveraging on celebrities. These brands are often sponsoring the FIFA World Cup as well, but not everyone has the wherewithal to play so big.
No matter. All brands, sponsors or not, take advantage of the event, with all the social media chatter, to launch promotions into the sea of fast-moving football talk and capture leads. They create content to link it to the event, in this case the World Cup, but this works the same with other major days, happenings, or festivities like some occurring right now like the 4th of July or Pride. That content can take the form of contests, surveys ("who's going to win the World Cup?"), giveaways ("get your free signed football!"), quizzes ("do you know who's who on Sweden's team?"), or merchandising. Playing in social media has become a standard in any marketing department's toolkit.
Some brands are still not using social login for their World Cup Marketing or any other promos, opting for other capture techniques. Betrium, "the global sports betting platform," wanted their fans to join their Telegram channel to enter the drawing.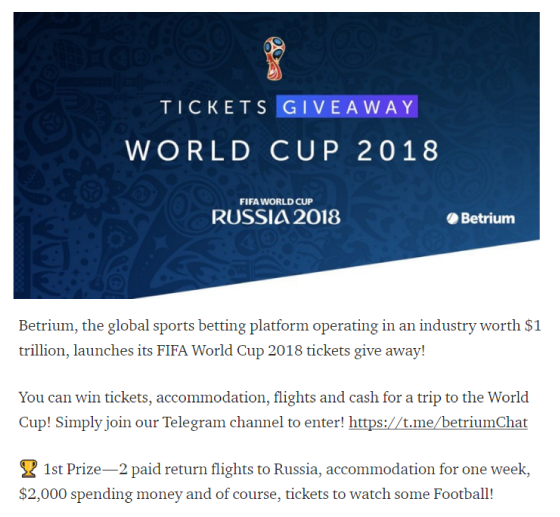 We can't help but feel at Xeerpa that they're missing out on a major chance to expand their relationship databases with very valuable information about their fans or potential customers. Xeerpa can help them get a better view of their customers, really know them, not just send them information. Let them tell the company about themselves. Someone who uses social login to enter a drawing, a free giveaway, a contest, or a quiz is letting the brand in on vital information about its customer base. The brand will be able to see where they are, to target specific geographies in future or immediate campaigns, what they like, to help engage them in their campaigns more, or how many friends they have, to find the best way to communicate with potential customers.
Some have incorporated social login like Coca Cola:

Coca Cola has taken the opportunity of the World Cup marketing campaign to use social login (in this case Facebook) to gather fan information. If managed right, they can collect tons of valuable information.
Xeerpa can help marketing managers sift through the waves of information that may become available through the social login in these types of campaigns, structuring the data shared by the users (Likes, GeoLocations, Posts…), segmenting the leads, and more accurately activating the data, so user experience and communications can become more personalised.
To get customers and fans involved, the content has to be attractive, not just using the background of the event, like the World Cup, to catch social media users' eyes. Everyone's talking about it, and there's a lot of noise, so how does your brand stand out? Social CRM like Xeerpa can also help you find out what appeals most to your fans and make your content the Top Player of the social media marketing world.
Get some inspiration for your World Cup Marketing and other campaigns:
All Stars of Big Data: some examples of Promo Campaigns by Xeerpa clients