Xeerpa Engagement is designed to accurately measure the user's interactions with your content, which will allow brands to calculate the engagement score that each individual has with each of your brands in social media, and reflect this information in the customer profile within your CRM.
HOW IT WORKS?
1. Identify the interactions on the brand's Facebook Fan Page and associates them with each user
The interactions that the user does with the content that your brand post on Facebook (likes, shares, reactions) happen in the Fan Page of the brand, not in the user profile. Xeerpa Engagement "reads" your Fan Page and identifies all these interactions associating them with each user, classifying them into two types:
The user's reactions to the content published by the brand.
Conversations initiated by the user on the brand's Fan Page.
Once these interactions are identified, the information is stored in the database. In addition, a new section in which this information is shown in detail will appear in the dashboard's user profile.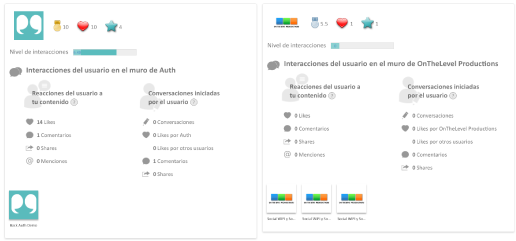 2. New "Engagement" section, with all the Facebook posts of each of your brands
In the new section of the dashboard, you can see the published posts of your brands, in their corresponding fanpage (at post level), and the reactions that each of them has generated (comments, likes, shares…).
These posts can be sorted by various criteria and, in addition, it will be possible to filter by a certain word, hashtag, a specific type of reaction (happy or angry face…), etc.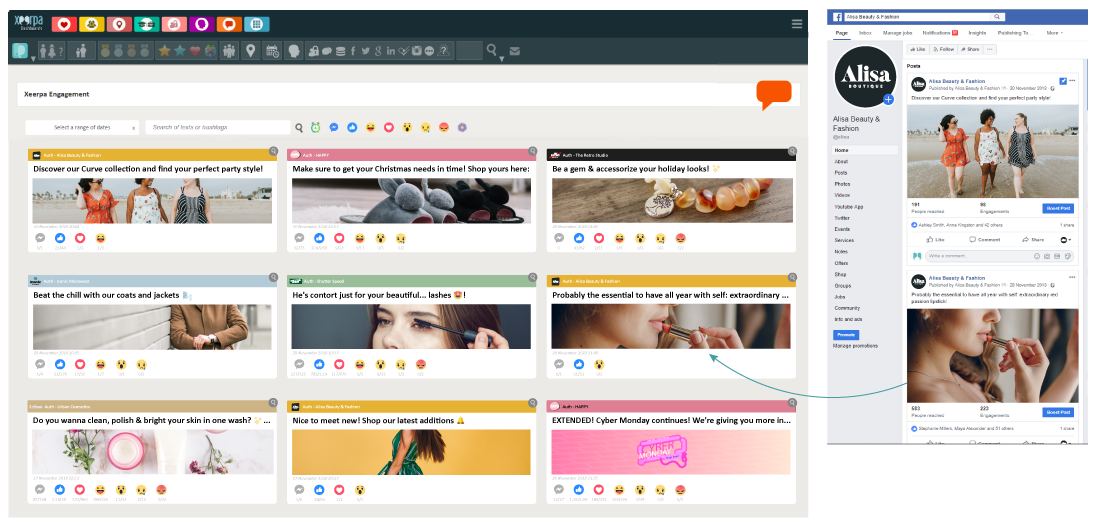 3. Selection of audience
After you have identified the posts that interest you, it will be possible to create audiences with the users who have interacted with these contents. For example, "Users who have reacted to posts that contain the hashtag #blackfriday", "Users who have liked the post in which a certain product was communicated"… Once the segment or group of users is identified, we have two possibilities:
Analyze it, in order to know the characteristics of the users that are part of it . For example, we will know: average age, gender distribution, interests… and how these users deviate from the total audience or other segments.
Activate it, and create a personalised campaign. These audiences can be impacted by the channels you use on a regular basis (email, social networks, DMP, …).
For example, in this case the segment will be those users who have interacted with posts that contain the hashtag #lipstick.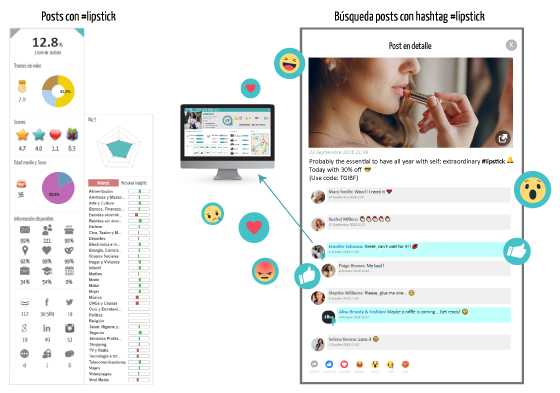 4. Integration with CRM, Datawarehouse, Datalake
In the database, we can have a precise detail of each of these interactions, being able to know the specific post with which this interaction has been made and the exact date in which it happen.
This information can "travel" to your Datawarehouse, Datalake… so you can segment your audiences and journeys with precision.
Would you like to learn more?