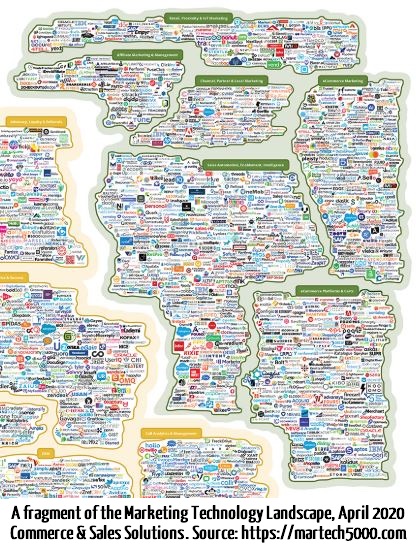 Today the e-commerce sector is touted to be a trillion dollar industry. Considering the current COVID 19 environment, the online shopping business is expected to grow even more in the coming years, and so will the Marketing Technology in e-commerce.  MarketWatch forecasts e-commerce global penetration rate to increase from 15% in 2020 to 25% un 2025.
E-commerce brands are rapidly increasing their investments in MarTech. Artificial Intelligence and Machine Learning, Virtual Reality, Voice and Image Recognition, Social Listening and Social Media Profiling are already being implemented by market leaders.  Players that want to be on the top of  the changing technological advances often choose to engage technology consulting services to navigate the ever-complex MarTech landscape of e-commerce industry solutions.
In this article, we will discuss some major technological trends that will shape the future of ecommerce and online business organisations in 2021 and beyond.
1. Improving sales through personalised customer journey
When more customer data is available online, consumers are more likely to get personalised experience from e-commerce stores.
Today, shoppers prefer to opt for those stores that can offer them a more relevant and timely shopping experience. The use of AI and predictive analytics based on both contextual (navigation and transactional history) and declarative (questionnaires, image recognition tools) can help e-commerce stores recommend the most appealing products to their customers. Social Media Profiling by Xeepra offers a deep analysis of customers' interests and preferences in +250 categories from the very first moment of navigation, which enables ecommerce to personalise contents and recommendations, master cross-selling and upselling.
Watch the Webinar-on-demand by Xeerpa and Target2Sell, where we discussed the application of IA Technology in e-commerce and showed case studies of personalizing customer journey in e-commerce (available in Spanish):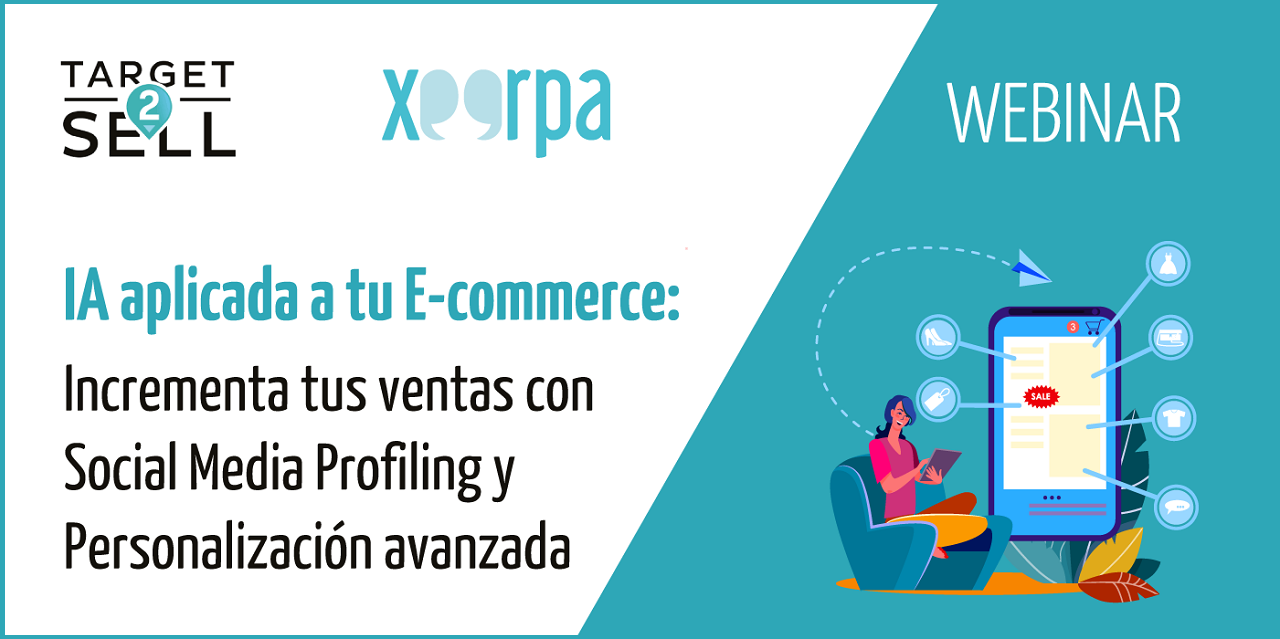 2. Voice payment technology and voice-enabled virtual assistants
In a survey carried out by Nielsen back in 2018 more than 72% Americans reported to use a digital assistants. And almost 25% of US households owned a smart speaker. Of course, these figures have increased drastically by 2020.
Therefore, it is safe to say that the trend of voice-enabled virtual assistants is here to stay and not going anywhere in the coming years.
With time, Amazon and Google's smart devices are becoming more and more popular among the masses. Considering the current COVID 19 pandemic state, people worldwide are opting for voice-enabled payment methods for their online transactions.
Therefore, those e-commerce stores that have successfully optimized their online applications by enabling voice-enabled payment methods will edge over those who fail to do so. Today, Google and Amazon are already offering voice payment options to its users.
3. Automated Bots and VR technology in E-commerce
In the coming years, e-commerce shoppers will be interacting more with digital bots and virtual assistants. With the implementation of AI technology, eCommerce stores can design and develop their digital bots to assist their customers online.
The main benefit of these virtual assistants is to provide professional guidance and make the entire user experience for online shoppers more convenient and stress-free.
Similarly, virtual reality will keep on growing as a popular e-commerce trend in the coming years. Online stores are employing this technology by creating VR trying rooms for their consumers.
The scope of virtual reality technology is vast, and e-commerce stores can benefit from this technology in various ways. Whether it is something as simple as bags, clothing, or something as complex as home furniture, VR technology can help consumers virtually check and try out items before placing an order.
4. The growing use of mobile devices and Social Media for placing orders online
In the past decade, the use of smartphones has grown tremendously, with nearly 50% of adults in the US, relying on their smartphones to use the internet and shop online.
As a result, various social media platforms like Facebook and Instagram are being used by buyers and sellers for various purchasing activities.
Sellers can either post images of their products on their official Facebook or Instagram pages or do live selling sessions of their pages. This selling technique is more cost-effective for those individuals or small businesses that cannot afford costly designing and optimizing services that are needed for creating and marketing a proper e-commerce website.
Also, several new features like checkout options on Instagram and Facebook can further speed up and improve buyers' shopping experience.
5. Eco-friendly e-commerce activities
Today, every industry is concerned about the environment and implementing more eco-friendly practices to control the emission of harmful chemicals and radiations that pollute the environment.
Therefore, in the coming years, e-commerce stores will adopt more energy-efficient practices to reduce toxic waste production.
To satisfy their consumers, e-commerce stores will give special attention when outsourcing commodities of different brands. Businesses will use a zero-waste approach, and recyclable packaging will be preferred.
The size of standard delivery packages will be reduced by businesses that want to establish more eco-friendly practices in the e-commerce industry.
Conclusion
The future of e-commerce industry is believed to be even more exciting and rewarding in the coming years. The buyers and sellers can benefit a lot by implementing the latest technologies in the e-commerce industry.
The way a buyer interacts with a seller is continuously evolving and changing with time. As more e-commerce stores adapt to these changing e-commerce practices focused on personalisation and loyalty, they can improve the overall user experience, which ultimately leads to improved profits and growth.