In the world of social media marketing, it can be difficult to measure user engagement with your brand in a meaningful way that accounts for not only the quantitative sum of user interactions, but also the qualitative significance of each of these actions.
Thanks to some creative thinking, and some very fancy algorithms, we've found the formula! We give you the (new and improved) Xeerpa Engagement Score; the perfect union of quantitative & qualitative engagement factors simplified on a scale from 1-10. Here's how we did it: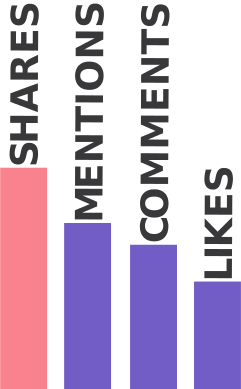 Our first task was to identify the various measurable ways in which a user may interact with your content: likes, comments, @mentions to friends, and shares. But, of course, the intention of the user behind each of these actions must also be taken into consideration and thus the value of each action assessed separately.
So, after careful study of user behavioral patterns we discerned that the most valuable user interaction is a share. When a user shares your content they take the important first step toward being a brand evangelist. As conversion actions go, it doesn't get much better than this sort of "free" promotion which allows you to reach a previously inaccessible audience via a high-impact, organic channel.
These and other similar high-value engagement actions are heavily weighted when calculating a user's engagement score. And with Xeerpa connected to your web or mobile application via social login, you can take this measure of user engagement one step further by combining it with social user data. This will allow you to truly understand user engagement not only on an individual level, but also engagement based on various demographic factors. For example:
Who reacted better to the post you launched yesterday? Fitness lovers or Moms?
When is the best time to publish my content if I want to target my most influential fans and followers?
Which format (text posts, image posts, video posts) has the greatest impact among my Premium clients?
With this information you'll be able to refine and plan future marketing actions based on real measurable engagement indicators for individual users and key user segments. All this is accessible right from your Xeerpa Dashboard- it's almost too easy!