Without any doubt, the users' geolocation is one of the most influential factors when talking about trends and vogues. For instance, an affinity report of a company whose users are mostly located in Germany appears different from the one of the UK based targets.
During the last few months, many brands have reached us requesting to segment their Xeerpa database users by specific locations starting from a mile around a tiny urban spot, and up to specific countries.
It was obvious that these segmentations are of great utility when it comes to organizing international marketing campaigns, and therefore in Xeerpa we decided to step up and develop our new gadget: the locations filter.
This new filter allows the brands not only to obtain the users' quantitative locations data by country, region and any spot in a city, but also by the residence and national or foreign visits, years and negative locations ("hasn't been to…").
The geolocation filter has proved to be extremely useful in our clients' campaigns. For instance, it helped Shiseido to identify brand ambassadors that at the same time were frequent visitors of the center of Madrid, so as to invite them to a product launch event in El Corte Inglés, the emblematic shopping mall in the center of Madrid which is one of their main sales points.
Our client TourSpain, a national tourism-promoting organization, part of the Spanish Ministry of Tourism, analyzed locations visited by their prospects in the last 5 years, along with specific cultural parameters to craft hyper-personalised marketing campaings.
Our clients form the restauration and banking industry get inspired by users' geolocation reports when they search for a location to open a new establishment.
Below you can find an example that illustrates how Xeerpa's geolocation tool allows to perform extremely specific searches within minutes:
A famous hotel chain celebrated its 50th Anniversary of their emblematic hotel in Monaco, which coincided with the acclaimed Formula 1 Grand Prix on the same weekend.
This hotels chain decided to raffle a one night stay in their new establishment among their Spanish users who have expressed any kind of interest in Formula 1 on the Social Networks.

They also intended to increase the opening rate of their promotional e-mail, so they narrowed the target to those users who traveled to France during 2015, but have never been to Monaco.

In order to maximize diffusion in Social Networks, the brand also wanted the lucky user to match certain criteria according to Xeerpa score, such as to have the Golden Value of Follower and the Influence Score higher than 8.5. Another important criteria is that user should have logged in through Facebook Social Login.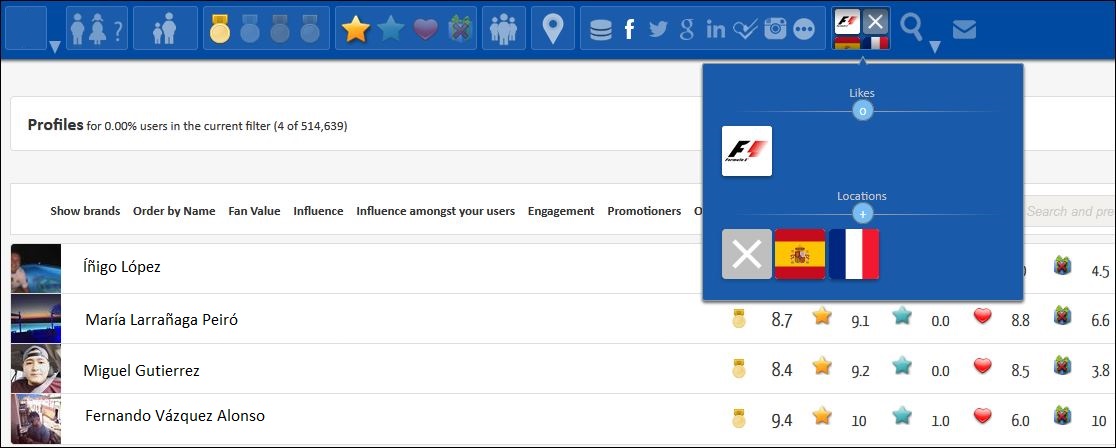 As you can see, this filter brings a new approach and depth to Marketing Profiling, making it more and more customizable and detailed, improving the end user's experience and giving brands the opportunity to identify the specific group of users they are looking for.
---